I have a confession.
You know how Fixer Upper mania has swept the nation? Of course you do, unless you have been living under a rock for the past two years. I too am a huge fan, and I even braved the crowds to go see them last year in Kansas City.
Like everyone else, I adore all of Chip and JoAnna's shiplap walls, french doors, and all of their farmhouse flare.
The part I am confessing to is the fact that I myself haven't jumped on the farmhouse bandwagon.
Gasp! I know!
While I do have elements of farmhouse style incorporated in my home, my predominate style would definitely not be farmhouse. While I swoon at some of the gorgeous farmhouse homes of some of my friends, I like to add a bit more glamour, like blinged out chandeliers, curvy french mirrors and a little Hollywood Regency here and there.
I would say pieces like my secretary are very farmhouse, the mirror above it is not.
In my living room, I do consider the coffee table to fall under the farmhouse category, but the room as a whole? Not so much.
Throughout my home you will see something vintage mixed in with something I just bought at Pier 1 last week. I like having a mix of eclectic items.
For example, a few months ago I picked up this great piece at a local vintage store. I'm not entirely sure what it came from, my guess is that it was maybe part of an antique mantel.
I decided to use some Junque Paint in Flour Sack to lighten it up and hang it in my basement.
I decided to challenge myself and style my shelf three ways. Whichever way I liked it best was the way it was going to stay.
I got this cute handmade sign from Charlie and Ella a while back and hadn't found a spot for it yet. Since it looked very farmhouse-ish to me, I decided to go with that theme on the entire shelf.
What's more farmhouse than mason jars, fresh flowers, and vintage corbels?
Then I tried again using vintage finials, a topiary, a trophy, and bottles.
Last I used more vintage bottles, a rustic horse and some ironstone.
I'm not sure which way I like it best. How about you? Do you like 1, 2, or 3 best?
Make sure you head over to the other super talented ladies' blogs to check out their fabulous farmhouse ideas!
---
Check out the farmhouse ideas:
Confessions of a Serial Do-It-yourselfer
Don't forget to join the challenge on Instagram this month #DecorEnthusiastStyle #FarmHouseDecor
Join us on Instagram (click on each name):
Refresh Restyle – Duke Manor Farm 
Artsy Chicks Rule – Restoration Redoux 
Our Southern Home – Confessions of a Serial Do-It-Yourselfer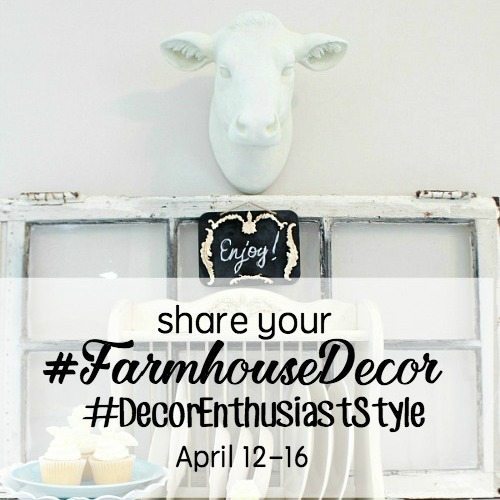 Are you following the Decor Enthusiast Facebook Group?
We have so much fun over there. It's a place to share your decorating & DIY adventures as well as ask advice! We'd love to have you! Just remember….it's a nice group…no negativity allowed. You can find it HERE. Share your farmhouse decor with us in the group!